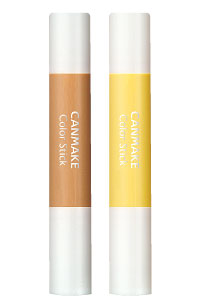 Color Stick
580yen

Instantly covers flaws to give you a brighter-looking complexion! For skin that looks even more beautiful than bare skin.

Pigment-free, Unperfumed, paraben-free, contains conditioning agents

This is not only a concealer that will cover flaws in your complexion; it is a multi-purpose cosmetic stick in a range of colors that can be used to cheeks and as highlighters to provide luster, translucence and definition. Moderately hard, it clings tightly to your skin and can be spread thinly over your face for a natural-looking complexion that looks even more beautiful than bare skin.

Apply directly with the stick or apply to your fingers and spread thinly over areas that have flaws or that you want to look more attractive. This product is considerably more effective if applied thinly and then reapplied with a patting motion.




[01] Yellow beige
Use to combat dullness, red blemishes and redness beside the nostrils. Enhances translucence and definition

[02] Natural beige
Use to combat brown blemishes spots and freckles. A highly versatile color that gives a bright, natural-looking finish. Top favorite color

[06] beige ochre
Use to combat dark blemishes, spots and freckles for a natural finish. Use on your nose and for shading

[07] apricot
Use to combat dark rings around the eyes from too little sleep. Gives you a brighter, more glowing complexion

[08] yellow gold☆
Use to combat brownish rings around the eyes from pigmentation caused by UV rays. For a bright, natural-looking luster. Can also be used on your T-zone and cheekbones to provide natural highlights

[09] Skin Beige
Promises a natural finish like bare skin. This versatile color will not disturb the color of your foundation, so it can be used in various areas, including blemishes, dullness and under-eye bags. For those who are new to concealer. For redness and uneven skin tone, giving natural cover (medium).
☆...Lamé or Pearl