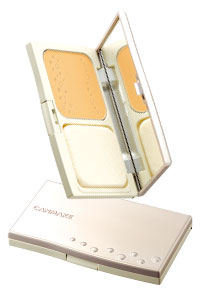 Concealer Foundation UV

A color foundation based on the concealer concept.
You'll be amazed by the first application! The moist powder clings tightly to your skin.
Long-lasting formula giving you beautiful skin for hours and hours.
SPF25·PA++

A foundation based on the concealer concept
●Concealer intensively covers the flaws in your skin that cannot be hidden with foundation, such as under-eye bags, dullness and dark spots.
↓However, applying concealer takes time….
This product has the coverage to conceal the flaws in your skin, just by applying foundation. Has a natural finish, for skin that looks beautiful, even at point-blank range.
You'll be amazed by the first application. Feels like silk
●Contains amino acid-based emollient agents, locking moisture into your skin and protecting it from dryness.
●The moist powder feels just like silk on your skin. When applied to your skin with a sponge, it feels like it is just slipping on.
Long-lasting effect
●The sebum-absorbing powder absorbs excessive oil from your skin. ●Contains hyper-lasting polymer. The powder clings tightly to your skin, forming a long-lasting protective layer which prevents your make-up wearing off. ●Pure white mica is a highly white-colored powder, which prevents the dullness that results from sweat and sebum.

○After preparing your skin with a make-up base, apply the appropriate amount to a sponge and spread it evenly over your skin.
○If using water, wet the sponge, then squeeze the water out before applying the powder to the sponge.
○Please use a clean sponge that has had the water squeezed out thoroughly.
○Please do not throw the inner film away.



[02] Light ochre☆
A yellowish, natural complexion.

[03] Natural ochre☆
A yellowish, healthy complexion.
☆...Lamé or Pearl