A huge hit with all of you! Marshmallow finish powder!
Get marshmallow-soft skin.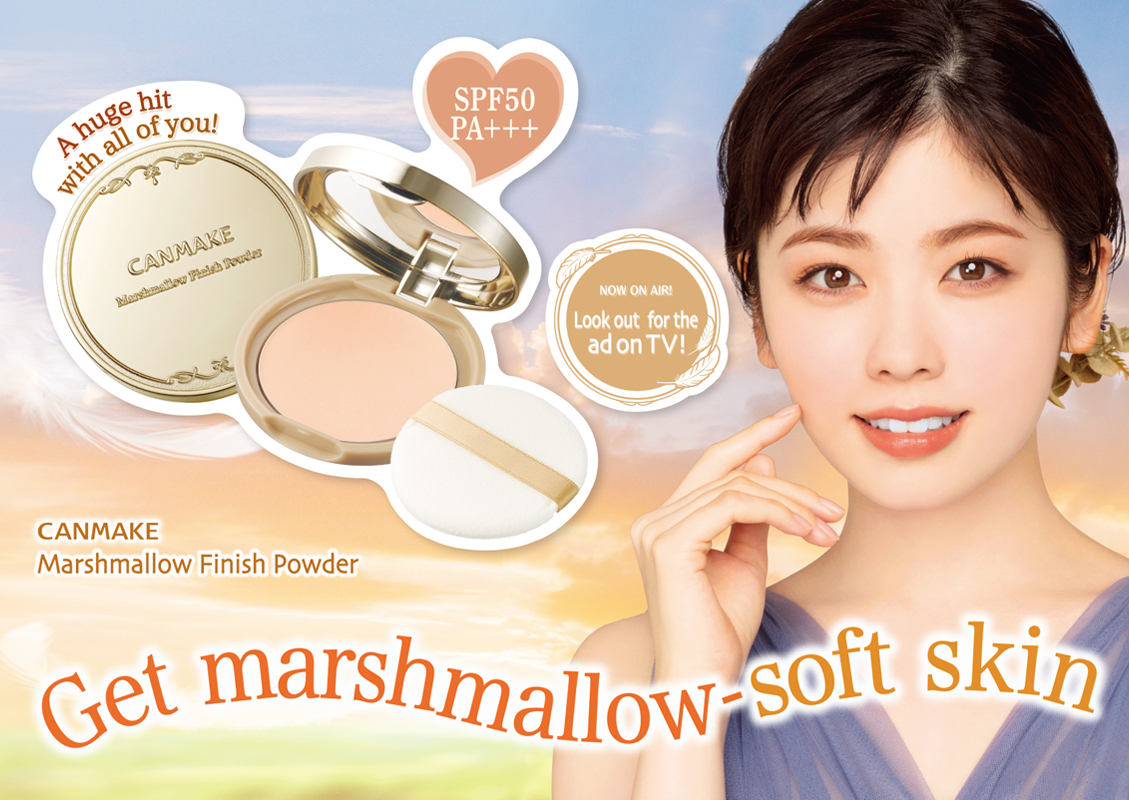 One sold about every 10 seconds!
※June 2011 to September 2021

Face powder for beautiful, super-soft matte skin.
Still hugery populer since the revamp!

What's the secret of its popularity?
 1. Keeps shine at bay! Long-lasting! Silky-smooth finish
 2. Covers up skin problems without feeling caked on
 3. SPF50 PA+++ and simple to remove with face wash or soap! 
※When used without other make-up products

☁SPF50・PA+++
☁Contains serum ingredients
☁Contains natural mineral fomulation
☁Comes with a mirror and soft puff
☁Removable with ordinary facial wash
 ※When used alone

CANMAKE
Marshmallow Finish Powder ¥1,034(tax included)

MO Matte Ochre
A pink-toned ochre that blends in softly.

ML Matte Light Ochre
A bright ochre, for a highly translucent look.

MB Matte Beige Ochre
A beige-toned ochre that creates a natural finish.



A burst of color and shine!
Moisturizing tinted gloss.

Juicy Lip Tint How To Use
~The key to its staying power : wait 5 minutes♡~

We recommend using Plump Lip Care Scrub as a primer to condition your lips first ♪
※Blot your lips thoroughly with a tissue, as oil-based ingredients can prevent the pigment from clinging to your lips.

♡1 Remove any residual oils on your lips.
   This will help the color to cling to your lips!
♡2 Apply the tint evenly to your upper and lower lips.
♡3 Apply before doing your eye make-up on busy mornings.
Leave it for 5 minutes without touching it. (※Time recommended by Canmake)
   Don't rub your lips together either!
♡4 Done!
   Lock your lips inside a glossy, succulent film of color.

Blot it with a tissue and you won't need to worry about the color transferring onto your mask!

☁Guards against chapped lips
☁Contains 9 types of moisturizing agents


CANMAKE
Juicy Lip Tint ¥660(tax included)

04 Terracotta Bear ♡Limited Color♡
Warm terracotta.

02 Cinnamon Apple
A serene beige red.

03 Orange Brulee
Orange brown, for a stylish look with just one coat.


Marshmallow Finish Powder MO
Highlighter N01
Glow Fleur Cheeks 11
Perfect Airy Eyebrow 02
Perfecr Multi Eyes 05
Glow Twin Color 05
Quick Lash Curler Separate 03
Stay-On Balm Rouge 06
Colorful Nails N39
*Information current at the time of writing.