For sophisticated eyes with a mesmerizing twinkle.
New! City Lights Eyes.
A high-cling eyeshadow single that sparkles like the city skyline at night.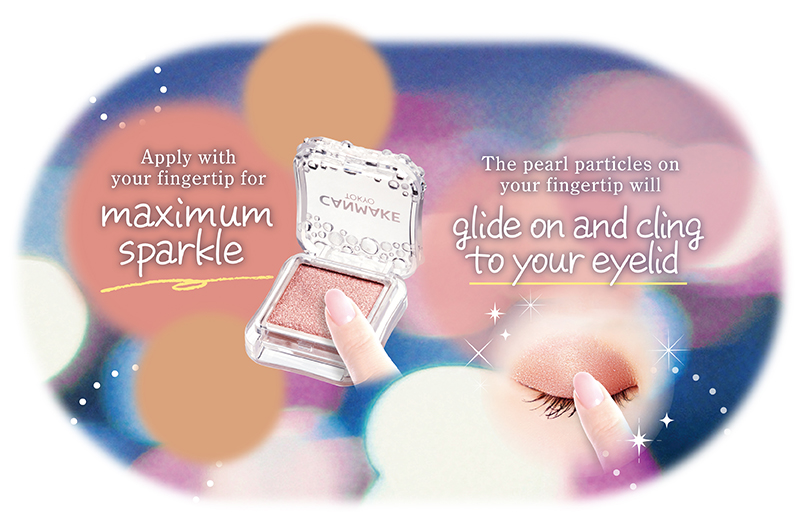 Apply a radiant shimmer of pearl to your lids with your fingertips.

Velvety-smooth texture glides right on.

★High-intensity
★High-cling formulation
★High-color formulation

CANMAKE City Lights Eyes ¥638(tax included)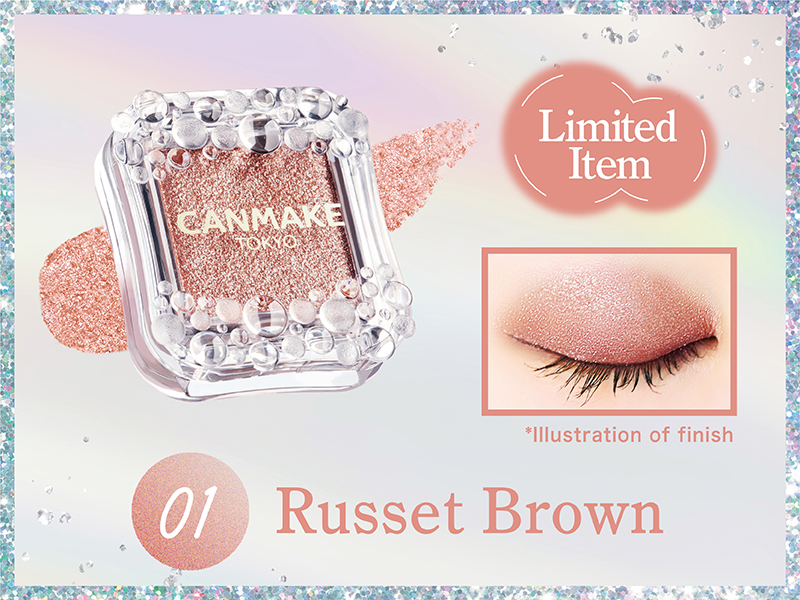 Limited Item

01 Russet Brown
A delicately seductive reddish brown.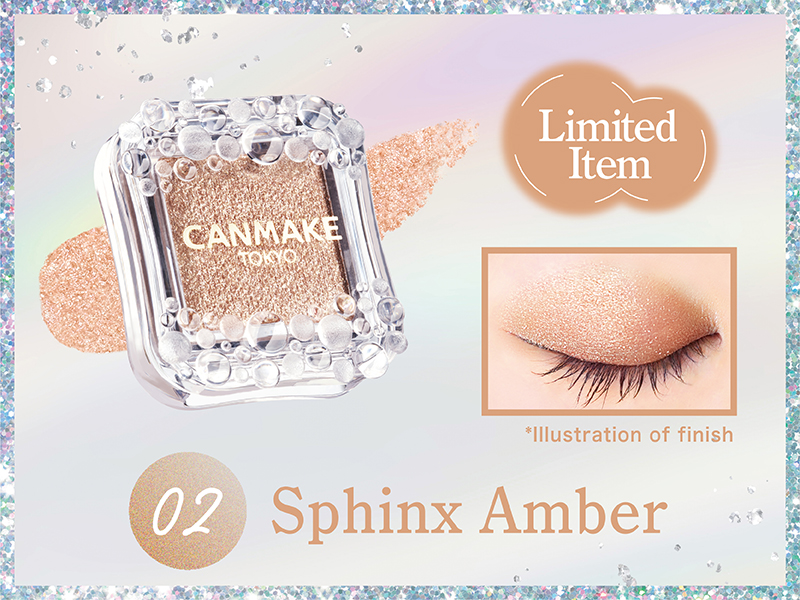 Limited Item

02 Sphinx Amber
A beige-toned gold that won't look powdery on your skin.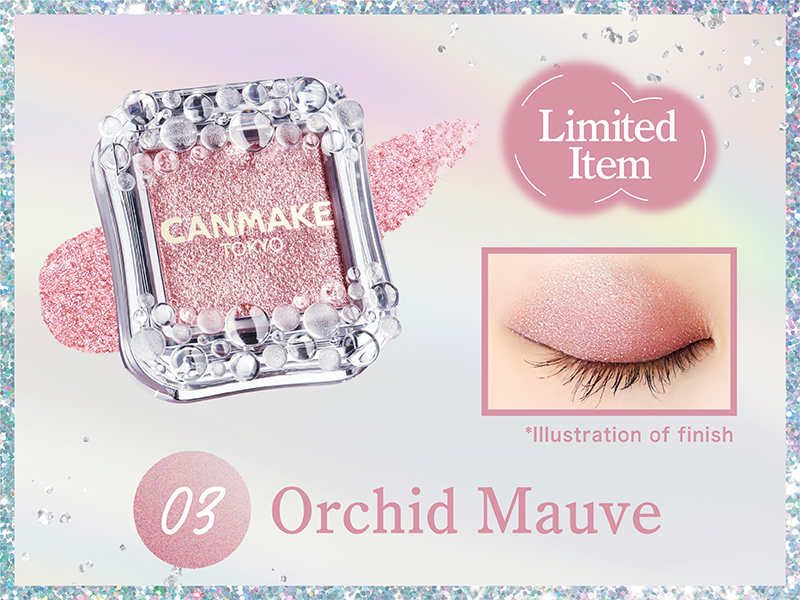 Limited Item

03 Orchid Mauve
Mauve pink with a sweetly sophisticated twist.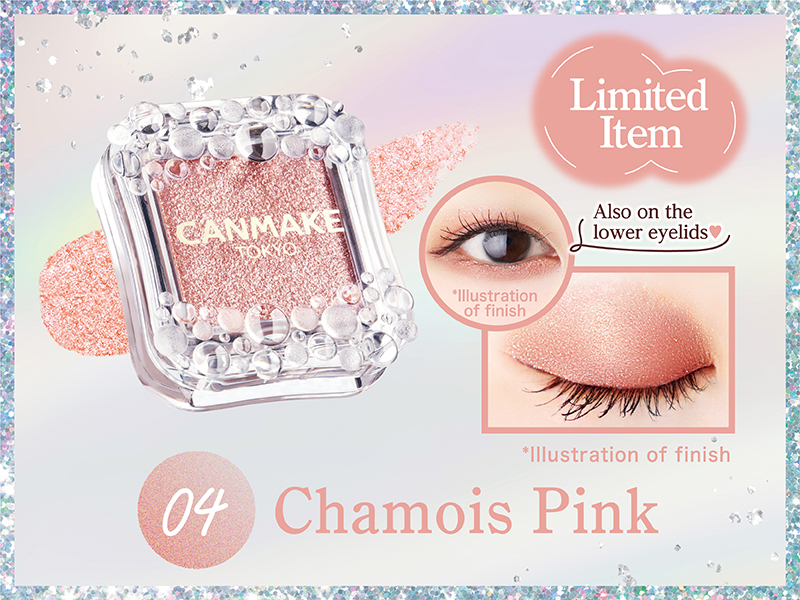 Limited Item

04 Chamois Pink
A coral pink with a dainty finish.

Also on the lower eyelids♡
Not too much is just right ♡
Limited-edition shades with glitter suitable for grownups!

User-friendly! The secret of glitter for grown-ups.

1. Glitter that's not too big
Designed to provide an exquisite sparkle without looking obtrusive, thanks to glitter particles that are just the right size.

2. Perfect sparkle even with fine lines
As the base is packed with ultra-fine pearl, even a modest flick of the brush applies a clear sparkle.

3. Ultra-fine brush delivers glitter with pinpoint accuracy!
Soft, user-friendly ultra-fine brush.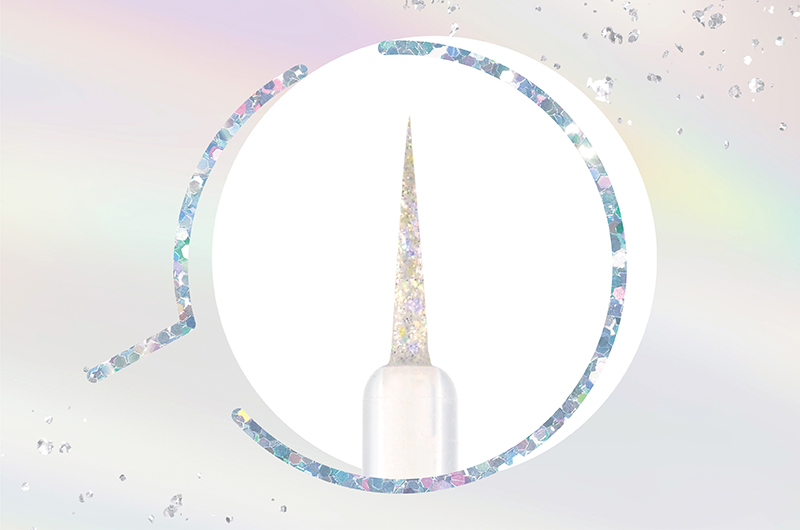 ★Can easily be removed with warm water.
 *Wash off gently and thoroughly.
★High-intensity glitter
★Ultra-fine brush makes fine lines a breeze

CANMAKE Aurora Cocktail Glitter ¥715(tax included)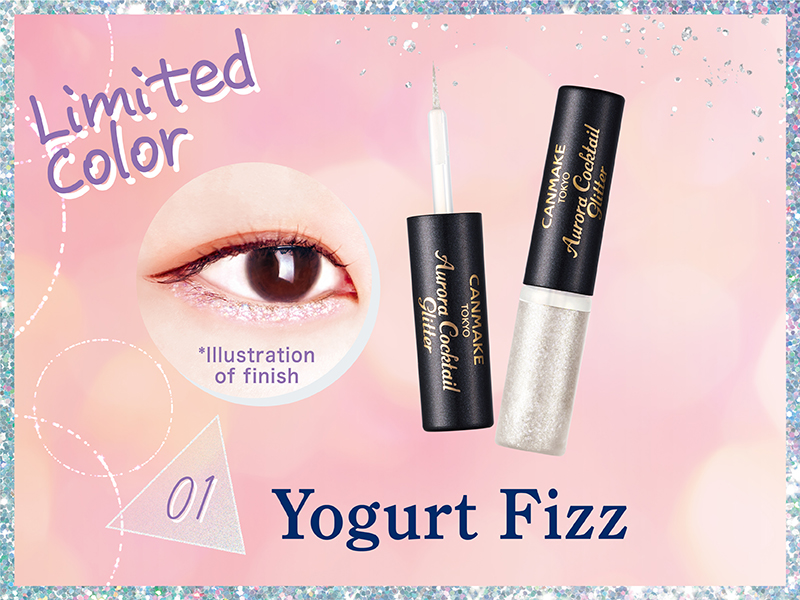 Limited Color

01 Yogurt Fizz
A white base that accentuates your eyes.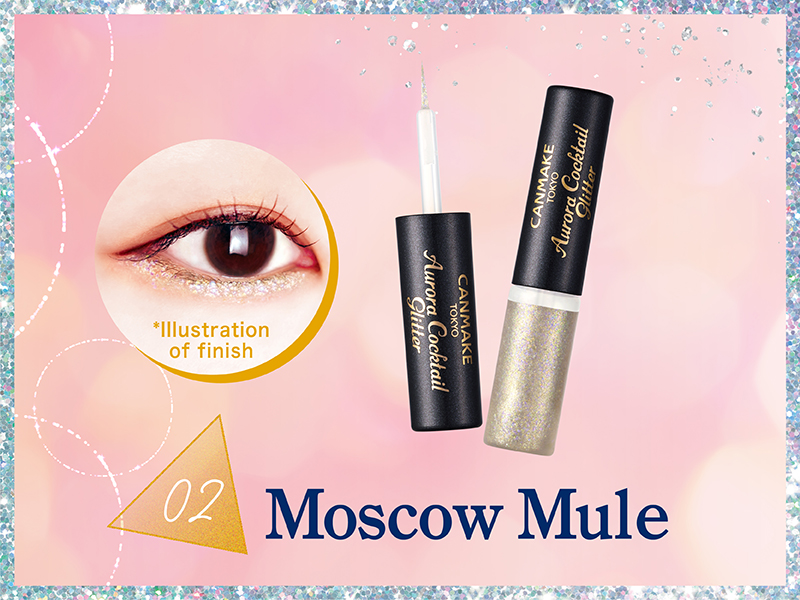 02 Moscow Mule
A gold base that blends in well with your skin.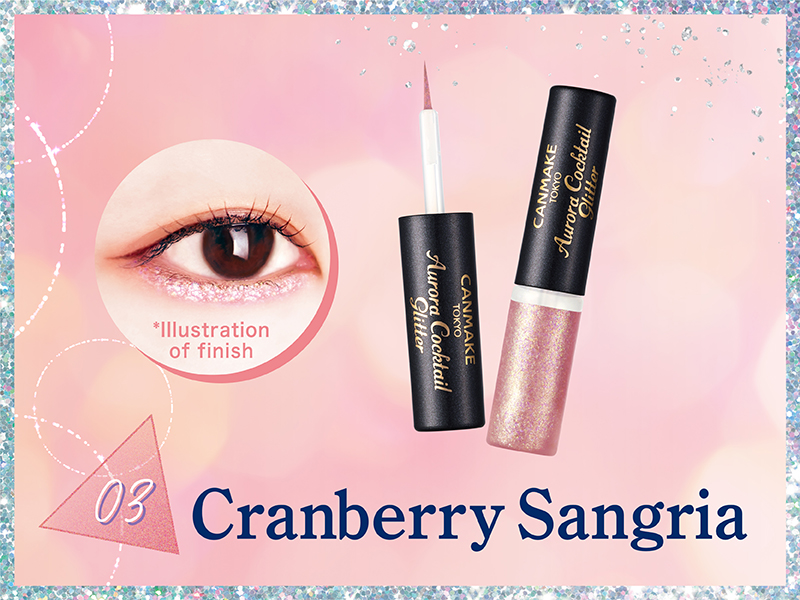 03 Cranberry Sangria
A pink base that adds a rosy glow to your complexion.
Wax-based × Powder-based
Achieve soft, well-defined brows by combining textures and intensities ♡

Simple to use, even for novices.
Wax × powder combination gives a longer-lasting finish ♡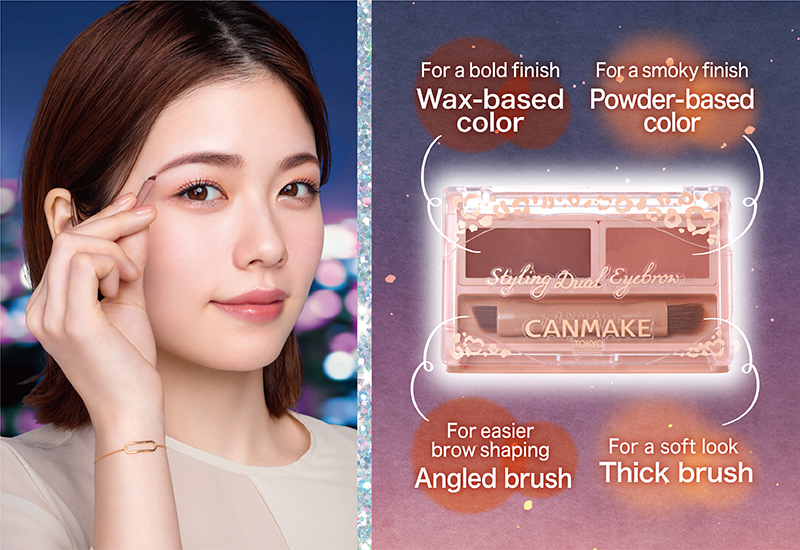 For a bold finish♡ Wax-based color

For a smoky finish♡ Powder-based color

For easier brow shaping♡ Angled brush

For a soft look♡ Thick brush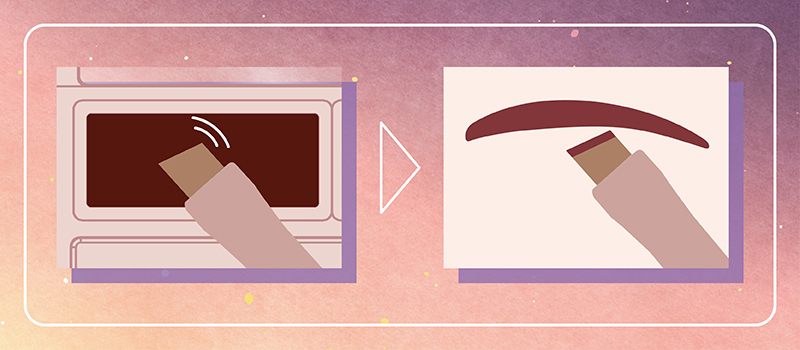 (1) Apply the wax-based color to the angled brush and then draw the whole of the brow, adjusting the direction of brow growth.

☆Key Point
Head of the brow : Draw the hairs pointing upwards.
Middle to tail of the brow : Glide along the brow, following the direction of growth.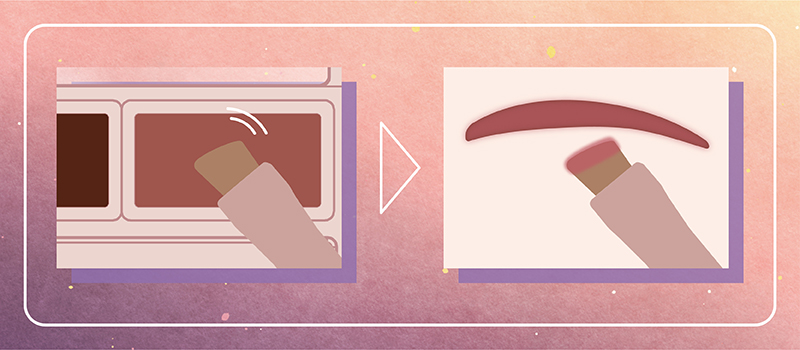 (2) To finish, apply the powder-based shade to the thick brush, stroke it lightly across your brows, and you're done!
★Carefully designed double-ended brush
★Resistant to water, sweat, and rubbing
★Contains serum ingredients

CANMAKE Styling Dual Eyebrow ¥792(tax included)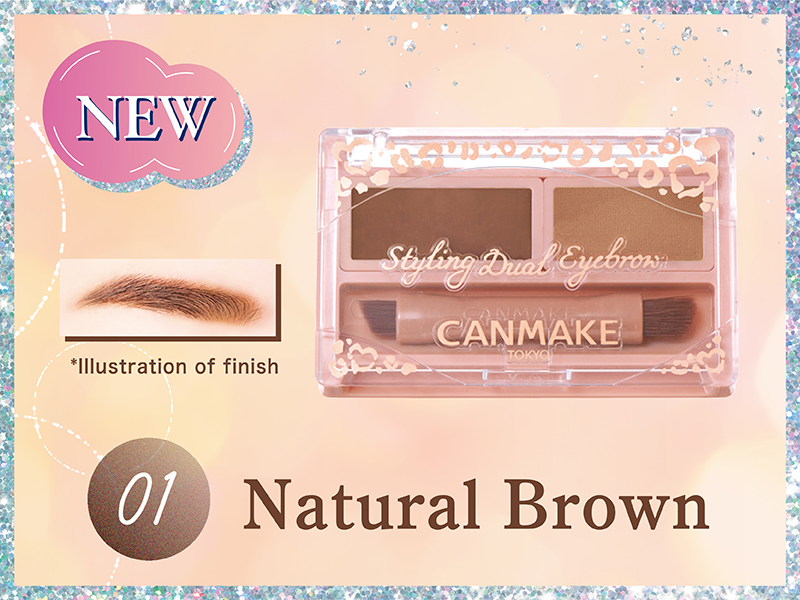 NEW

01 Natural Brown
A versatile brown that suits all hair colors.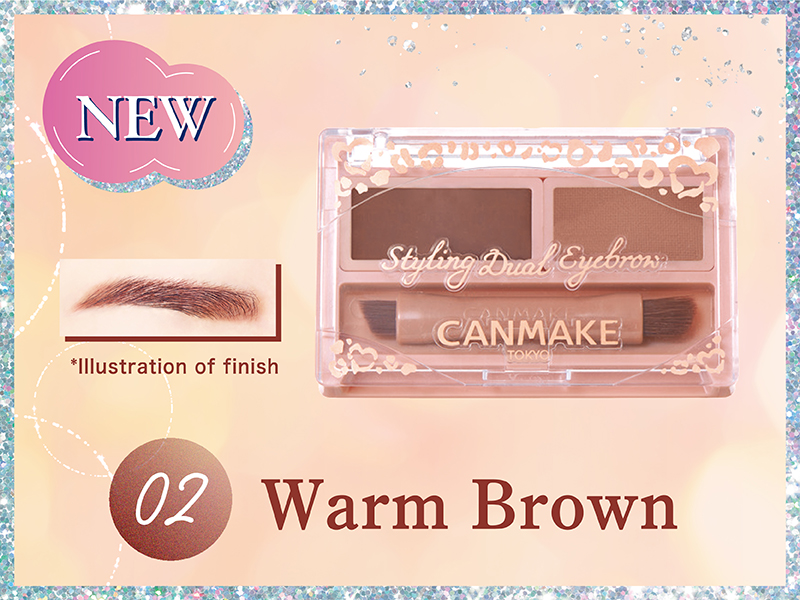 NEW

02 Warm Brown
A warm reddish brown.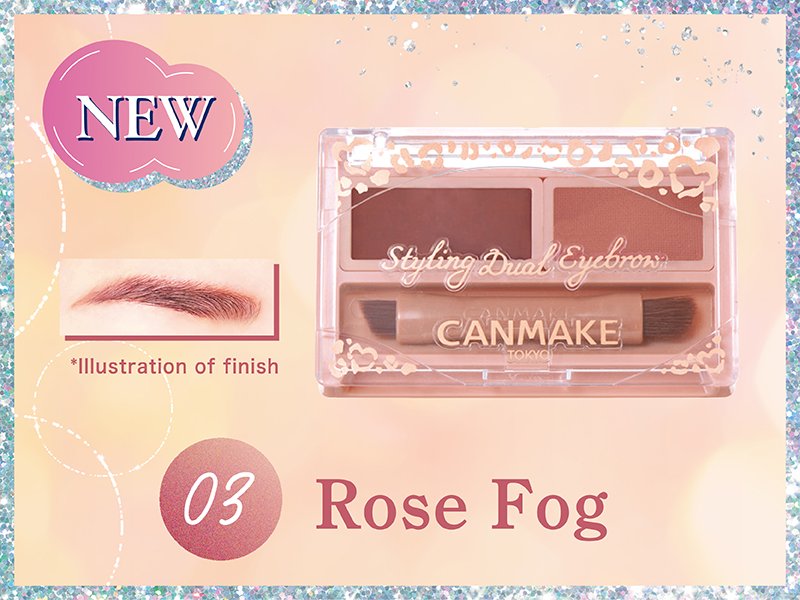 NEW

03 Rose Fog
Create a gentle, adorable impression with this pinkish brown.

City Lights Eyes 04
Aurora Cocktail Glitter 01
Styling Dual Eyebrow 03
Luminous Luna Pact G01
Glow Fleur Cheeks 11
Creamy Touch Liner 11
Quick Lash Curler Long Mascara 01
Melty Luminous Rouge (Tint Type) T02
Foundation Colors 06 etc...
*Information current at the time of writing.